Alter Bridge at Lupo's Heartbreak Hotel – Providence, RI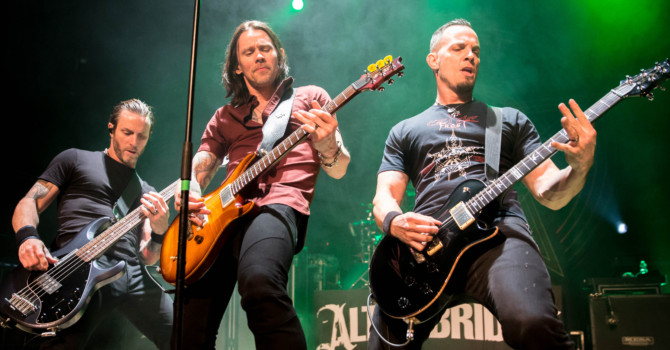 Photos and Review by Jeff Palmucci
Galleries: Alter Bridge, In Flames
Thank god Guns 'n Roses got back together. I was there in the front row, paying an insane amount of money in order to witness hell freeze over.
Anyone reading this, however, realizes that is not the only reason to be grateful. It means that Alter Bridge is able to tour again. I caught them last week at Lupo's in Providence.
Alter Bridge is Myles Kennedy, lead for Slash and the Conspirators, along with the Stappless members of Creed. They are on tour in support of their fifth studio album. I don't know how these guys have the time to do this stuff, with Myles' other gig and Mark Tremonti's solo work.
However, when they do get together, the music is amazing. Myles distinctive voice and Mark's insane guitar work combine into some of the best hard rock today.
I wasn't alone in thinking so. I was standing behind these two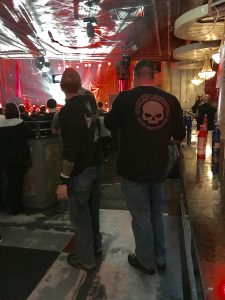 big heavily tattooed guys in the back after they kicked us out of the photo pit. When Open Your Eyes came on, I swear to God, they started to jump up and down for joy like a couple of tween girls waiting to see Justin Bieber after drinking a case of Mountain Dew. Now I just want to be clear that I'm not poking (much) fun at these guys. I'm just glad they were able to reconnect with their inner child.. and really glad that I was there to catch it.
One thing struck me during the set. I never really knew how good a guitarist Myles Kennedy was. That's him playing the intro to Cry of Achilles. I always assumed it was Tremonti. During the encore, Myles and Mark put on a guitar duel. Mark won, IMHO, but not by that much!
Death Metal rockers In Flames put on a great lead-in set, rounding out a great night of music.
Hear's to hoping for more chilly days down below so we get to see more Alter Bridge.
Alter Bridge
In Flames