America at The Wolf Den – Uncasville, CT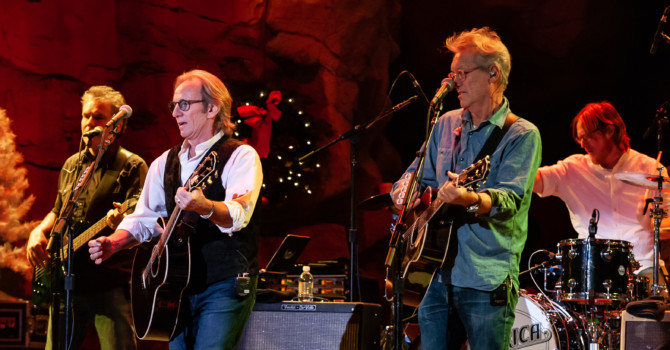 Photos and Review by Colleen Goyer
Show photos HERE
1970's band, America performed in The Wolf Den at Mohegan Sun in CT this month. Two of the three original members of the band, Gerry Beckley and Dewey Bunnell along with three others, some of whom have been with the group for many years now, worked through the band's albums playing a few songs from each in order of original release date.
Beckley and Bunnell played a combination of acoustic and electric guitars with an occasional stint at keyboard as well. Most of their hits were included, Tin Man (which they opened with), Ventura Highway, You Can Do Magic, Daisy Jane, Sister Golden Hair, I Need You, Don't Cross the River, and of course A Horse With No Name as the encore.
The set included solos by each of the band members who also provided all the background vocals. A stand out was the guitarist/keyboard player, doing most of the guitar solos throughout the night.
America has been performing for over 40 years and even with the personnel changes the sound remains true to the original. Several times during the performance the musicians came close to jamming. This was a great addition to hearing the music as originally performed and showed that they still enjoy what they do and can provide a very enjoyable evening for concert attendees. I would absolutely go see them again.
America is on the list of bands that have performed the most at The Wolf Den so watch for the next time they come to the venue.