Combichrist and Dope at the Palladium – Worcester, MA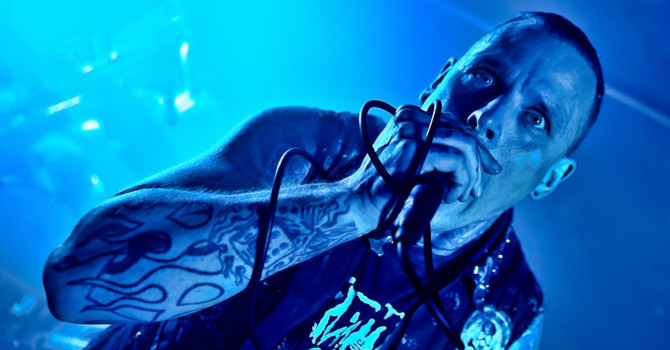 Review by Debbie Steir
Photos by Tom Bogus
Galleries: Davey Suicide, September Mourning, Combichrist, Dope
It was a night of metal madness when Blood Lust Tour 2017 finally made its arrival to the Palladium Theater in Worcester, MA, on Friday, March 24, 2017.  Official line up for the tour includes Davey Suicide, September Mourning, and double bill headliners Combichrist and Dope.  Fans came from all over New England to witness the walls and roof being blown out at the Palladium.
Opening the show with their industrial punk rock sound Davey Suicide delivered a brilliant performance on the eve of the release date for their new album "Made from Fire" (Trisol).  Suicide is made up of Davey Suicide (lead vocals), Drayven Davidson (drums), Needlz (keyboards/vocals/programming), Niko Gemini (guitar) and Derek Obscura (bass).  With a strong fan following and legal adversities behind them, we can expect to see and hear a lot more from Davey Suicide.
September Mourning (Sumerian Records) followed with their dark heavy metal goth sound.  Emily Lazar brings her comic character "September Mourning" to life on stage telling "her" story through the music.  Even with limited stage space and mic problems Emily, as well as her bandmates Rich Juzwick (guitar), Josh Fresia (drums) and Kyle Ort (guitar), displayed nothing but professionalism and gave their fans another outstanding performance filled with all the right kind of drama.
With the crowd worked up and growing in numbers Combichrist (Metropolis Records) hit the stage running with "What the Fuck is Wrong with You?" putting on a devastating performance.  An American aggrotech band formed in 2003 by Andy LaPlegua (lead vocals) Combichrist's other members include Joe Letz (drums), Nick Rossi (percussion), Eric 13 (guitar) and Brent Ashley (bass).  Possessing a strong stage presence Andy is masterful at working his fans into a frenzy-like state engaging and encouraging audience participation until the very last note is played.  Closing their set with "Sent to Destroy" I am reasonably certain they took it literally.  The entire band had an electrifying energy about them and the audience was at their command.  This is one band that must be seen live to fully appreciate the power and energy I bore witness to on this night.
Closing out the show was Dope.  I honestly don't know what I can say that has not been said before.  Edsel Dope along with Virus (guitar), Nick Dibs (bass) and Daniel Fox (drums) played fan favorites as well as tracks from their newest album "Blood Money" (October 2016).  The set began with "X-Hale" elevating an already over-the-top evening to epic proportions.  Of course, a Dope show would not be complete without their rendition of "Spin Me Round".  When the song was over, Edsel stated that he really doesn't care for the song but since his fans love it so much he keeps it in the set.  Everyone had a good laugh which then lead right into "Rebel Yell" another fan fave.  The set closed out with "1999" from their debut album "Felons and Revolutionaries".  Dope is definitely a band to see live. Driven…. Outrageous…. Powerful…. Exhilarating…. Dope.
Dope
Combichrist
September Mourning
Davey Suicide