Dead Daisies Turn Jerusalem Into a Rock and Roll Mecca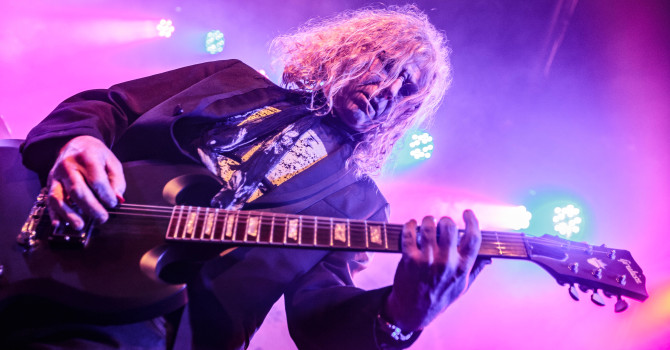 Photos and Review by Ilya Mirman
Concert Photos HERE
So picture this: you're a rock photojournalist and classic rock junkie, with Aerosmith and Guns N' Roses the most frequently played artists on your iPod full of 70's and 80's rock. You're in Israel spending a week volunteering at an army base, and at the breakfast buffet of Tel Aviv's Dan Hotel you bump into Richard Fortus – guitarist for Guns N' Roses, Thin Lizzy, Psychedelic Furs, and Dead Daisies. Turns out, the Daisies were wrapping up their 2015 world tour with two shows in Israel – and suddenly there's an opportunity to cover the gig. Now THAT is a legit Hanukkah miracle!
The band is an Australian-American supergroup and musical collective formed in 2012 by singer-songwriter Jon Stevens and guitarist David Lowy. Influenced by 70's and 80's hard rock, their sound fuses soulful vocals with blues-based riffs, replete with hooks and melodies –delivered with world-class musicianship and swagger you'd expect from members of the world's greatest hard rock bands.
There is arguably no harder working supergroup today than the Dead Daisies. A "collective" because many of the members have "day jobs" with household name bands (Guns N' Roses, Rolling Stones, Thin Lizzy, Whitesnake, Ozzy Osbourne, etc.), the exact lineup evolves with the demands of the various tour schedules. Today the lineup includes:
· Rhythm guitar: David Lowy (Red Phoenix, Mink)
· Lead guitar: Richard Fortus (Guns N' Roses, Psychedelic Furs)
· Keyboards: Dizzy Reed (Guns N' Roses, Hookers & Blow)
· Bass: Marco Mendoza (Thin Lizzy, Whitesnake)
· Lead vocals: John Corabi (Mötley Crüe, Ratt)
· Drums: Brian Tichy (Billy Idol, Ozzy Osbourne)
I've covered the Dead Daisies in the past (as part of the 2013 Rockstar Energy Drink Uproar Festival; and when they opened for Kiss and Def Leppard in 2014), but it was a very special treat to see them in a killer intimate venue – the Zappa Club in the heart of Jerusalem. Picture a cool, modern club with two floors and space for several hundred patrons, great acoustics, lighting, ambience and sight lines. In a nutshell, your perfect rock venue.
After a terrific opener (a short acoustic set by Gal De Paz Band), the Daisies hit the stage. They opened with Midnight Moses, a chugging, hard-driving cover of the 1972 hit by The Sensational Alex Harvey Band. Though the 16-song set was dominated by their latest album, Revolucion, the Daisies paid homage to their influences, with 6 covers including Beatles (Helter Skelter), Free (All Right Now), CCR (Fortunate Son) and Aerosmith (Sick As A Dog) to name just a few. While they have more than enough original material to fill a set, playing killer versions of rock classics really shows off the range, creativity and talent of the band. Playing covers always raises the stakes – and the Daisies just killed it, doing more than justice to each and every song.
I bet rock fans will find their new Revolucion album a great listen – classic rock hooks; fun lyrics and catchy choruses; with a production that feels modern, yet tips a hat to the 70's albums many of us have worn out on our turntables.
Both the stage presence and musicianship was second to none. Marco is bassist extraordinaire, never losing his connection with the audience, never losing eye contact, smiling and pointing at fans – all while putting down a thunderous, melodic groove, and always in the pocket with Brian Tichy's pounding drumwork. Tichy, currently in his 39th year of drumming (he started at 8!), pounded away like a monster. His influences are the drumming powerhouses of Zeppelin, Kiss, Aerosmith and Van Halen – and it showed. The drum solo midway through the show gave us a taste of Tichy – evoking Bonham and other greats, Brian beat the drums not just with sticks but with his fists.
Richard Fortus is a blast to watch and listen to – an amazing player, very active, very expressive – jumping around, in a rock trance, channeling guitar gods and delivering the rock goods. David Lowy was clearly in his element, feeding us great hooks with swagger and satisfaction. It was not lost on the crowd that performing in Jerusalem, with the band he co-founded, was very special for him.
I've shot John Corabi back in 2011 on his solo tour, but this was the first time I've seen him front a band. A hard rock veteran, Corabi is a fabulous vocalist and solid front man, with broad range in terms of both tone and style.
Rock bands often don't leave the sonic space for keyboards, but not the Daisies. Keyboardist Dizzy Reed – incidentally, the second-longest serving member of Guns N' Roses – brought blues rock energy in spades, tickling the ivories during the quite moments, and not shying away from pounding them when the arrangement called for it.
Every one of these guys has played to arenas filled with tens of thousands. So catching a Dead Daisies show means seeing all that talent in one place – and that's a real rock and roll treat. If you haven't seen or heard the Daisies, give them a shot – you'll be glad you did.
Set List
1. Midnight Moses (The Sensational Alex Harvey Band cover)
2. Evil
3. Mexico
4. Get Up, Get Ready
5. Hush (Deep Purple cover)
6. Looking for the One
7. Sick As A Dog (Aerosmith cover)
8. Something I Said
9. Lock 'n' Load (co-authored w/Slash)
10. All Right Now (Free cover)
11. Drum Solo
12. With You and I
13. Angel in Your Eyes
14. Devil Out of Time
15. Helter Skelter (The Beatles cover)
Encore:
16. Face I Love
17. Fortunate Son (Creedence Clearwater Revival cover)