Roger Daltrey with the Boston Symphony Orchestra at Tanglewood – Lenox, MA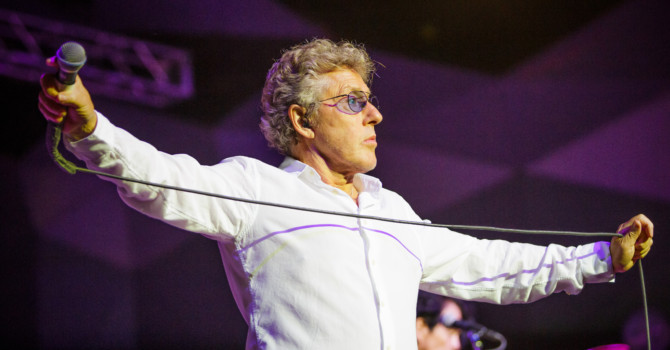 Photos and Review by Ilya Mirman
Show photos HERE
What do you do when you miss the chance to see The Who in junior high school?  In my case the answer is: wait three decades for Roger Daltrey and other members of The Who to team up with the Boston Symphony Orchestra to perform the Tommy rock opera – a rendition as stellar as it was unique.
Daltrey and The Who – arguably one of the most influential rock bands ever – are legends for a reason, and this was on full display that night.  Daltrey is a masterful frontman – sounding amazing all these decades later, with a commanding presence, energy and his signature move of wildly swinging the mic by the cord. 
The Who was the first rock music I was introduced to (summer camp in 1983).  Tommy was the first album stuck in my head, and so it was surreal to hear it live, and a real treat to photograph the set.  The environment (Tanglewood) and "backing band" (BSO) made it all the more special. 
Seeing members of The Who (sans Pete Townsend), in great form, sounding great and clearly enjoying themselves, lifted us all.  Daltrey was grateful and gracious, giving it 110% throughout the 27-song set.  Though much of the set was from Tommy, we did get to hear "Eyesight to the Blind" – a Sonny Boy Williamson cover that fit well within the story arc.  And, we were treated to Who Are You and Baba O'Riley – two songs I've loved since the Reagan administration.  In particular, I've been mesmerized by the outro solo in Baba O'Riley, and watching it done masterfully by violinist Katie Jacoby was incredible – I savored every note.  Overall, this was an amazingly fun performance – expertly satisfying those craving a slice of classic rock, with an orchestral arrangement that added much.  Clearly a highlight of the 2018 concert season!
Daltrey's tour continues through much of the summer – catch it if you can: https://www.thewho.com/tour/
Set List
Overture

It's a Boy

1921

Amazing Journey

Sparks

Eyesight to the Blind (Sonny Boy Williamson cover)

Christmas

Cousin Kevin

The Acid Queen

Underture

Do You Think It's Alright?

Fiddle About

Pinball Wizard

There's a Doctor

Go to the Mirror!

Tommy Can You Hear Me?

Smash the Mirror

I'm Free

Miracle Cure

Sensation

Sally Simpson

Welcome

Tommy's Holiday Camp

We're Not Gonna Take It

Who Are You

Baba O'Riley

Always Heading Home