SOJA at The Strand – Providence, RI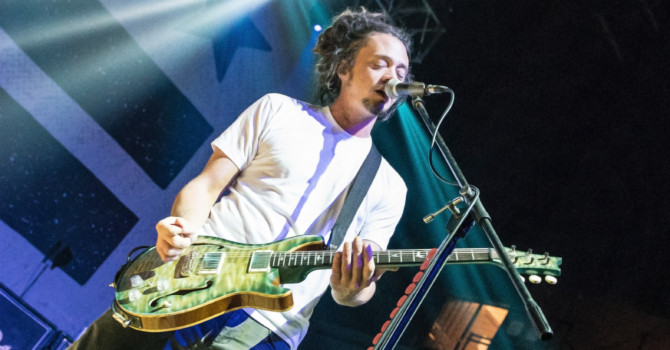 Photos and Review by Bethany Anna Packer
Galleries: SOJA, Nakho and Medicine for the People, The Late Ones
Every winter I find solstice in the occasional reggae rock tour that comes through town, bringing a little sunshine to the stages of New England. For this reason I was eagerly looking forward to the arrival of SOJA's Poetry in Motion Tour. The combination of SOJA's warm reggae sound, with opener's Nakho and Medicine for the People's feel good vibes and The Late Ones bringing their Hawaiian fire, Providence surely felt the heat.
The Late Ones took the stage at The Strand to open the show. The group delivered a fusion of sound, built on foundation of roots reggae with influences from the alternative, rock, jazz, blues, R&B, and hip hop. Their fresh take on an old school reggae vibe was the perfect way to start the evening.
Next to perform was one of my personal favorite live acts. Nahko and Medicine for the People is an American world music musical collective headed by front man Nahko Bear. Their positive and powerfully written music is a fusion of various cultural musical influences that is best delivered via their energetic and uplifting live performance.
SOJA's headlining performance was a perfect blend of crowd vibing jams with mellow folk-like reggae. The group seamlessly transitioned between tunes, sampling songs from throughout their catalogue including some material from their latest album Poetry In Motion.
The powerhouse reggae rock group that began as a few reggae heads in a basement in Arlington, VA, has transformed into an international force on the live music scene. They've become a global sensation, touring the world extensively at an incredible variety of venues and festivals. Their fiercely loyal fan-base showed up in Providence and devoured every song that the group delivered as they seamlessly transitioned from high energy kicks and splits from bassist Bobby Lee to the mellow lyrical genius of front man Jacob Hemphill.
The night overall was exactly what I hoped that it would be, and I left the venue feeling like I had been given the perfect dose of positive musical medicine for my winter blues.
SOJA
Nakho and Medicine for the People
The Late Ones